Creating a work-from-home email for your boss
Many organizations are flexible when it comes to working from home when you're feeling sick but this latest blizzard forced the issue with many companies who needed to warm up to telecommuting options.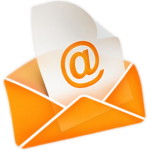 The last thing the company wants is an outbreak of flu taking out the entire sales staff or icy roads forcing them to call in sick. So when you feel that tickle in the back of your throat and your temperature starts to register triple digits or your car is literally surrounded by ice, it's time to draft that work-from-home request.
Here are a few tips and a sample letter to get you started:
1. Do it early.
Schools announce they are closing the night before you are scheduled to work? Send the email before you go to bed alerting your office of the severity of the roads. Feeling sick? Most viruses are spread before your symptoms peak. If you feel contagious, stay home and take it easy. Nap when you're tired and work when you're feeling up to it.
2. Inform your core work group.
An email to your supervisor is useful for records, but extending the message to colleagues allows you to set the expectation that work coming from your end may be delayed.
3. Make it simple.
K.I.S.S. Save the graphics and stick to providing contact details and noting steps your group can take to cover you while you're out. Here's a sample work from home email:
Hey Team,

I'm starting to show some signs that I'm coming down with ________________. If it is what I think it is, I want to keep it out of the office, so I'll be working from home for the next few days. I'll still be reachable by email, and you can always call me if you need me.

Thanks,
Signature
OR
To
The Project Manager,
Dear Sir/ Madam,
Subject: Requesting permission to work from home due to Inclement weather.
I, Sara, working in xxxxxxx, as a assistant on your team, am writing this letter requesting you to allow me to work from home.
As you are aware, we continue to have severe weather issues making my commute to the office difficult. Therefore I request you to grant me permission to work from home. I will be available on phone, and Internet all day long. 
Taking these extreme weather conditions into consideration, I hope you'll understand the situation and allow me to work from home till the road conditions allow.
Thanks and Regards,
Sincerely yours,
Sara