Top 4 Work at Home Jobs
According to our Virtual Office Team user statistics the top 4 most viewed categories for work at home jobs are listed below.
Customer Service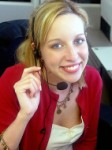 Many companies hire customer service representatives that can work from home, including cable TV and florist services. You can either apply directly to the company, such as Amazon fulfillment jobs, or apply with a company such as LiveOps that subcontract workers for companies that need work at home customer service phone representatives. These jobs generally have very few requirements, except you will need to have a landline phone, a quiet work environment, and good people skills. If you're processing payments, you might have to pass a credit check, as well.
Freelance Writer
Do you have a knack for putting words down on paper? Try your hand at freelance writing. This work at home job has the most flexibility, but it also tends to be less reliable as a source of income than some other opportunities. While this is certainly no "get rich overnight" career path, you can build up clients and climb the literary ladder to better paying jobs if you're willing to take on a few lower paying gigs to build up your resume and portfolio. From writing content for bloggers to creating advertising copy for large corporations, you'll find a wealth of information on writing jobs, content creator websites, and Facebook groups that will help you get started.
Also invest in a good AP Stylebook, the Chicago Manual of Style, and the voice-to-text software Dragon NaturallySpeaking can become your best friend.
IT Support
If you're tech savvy, providing technical support from home is a great way to make a good income without venturing out in the daylight. Of course, any work at home job tends to make one a little reclusive, but the computer nerds tend to find that is more of a positive than a negative. Bankrate.com reports that jobs for computer support specialist — whether they work on site or from home — are expected to increase by 18 percent until the year 2018, which is much faster than the average for other occupations.
Transcription
Another great work at home job is transcription of audio files into typed text. If you're an excellent typist, you can make between $12–15 dollars an hour as a general transcriptionist. However, if you really want to make a good living during transcription, it's worthwhile to purchase the proper equipment and seek additional training to become a medical transcriptionist, working with physicians who often call into recording services for their notes on visits or to record a patient medical history. You can expect to spend anywhere from six to 12 months to train for medical transcription, and VOT has an excellent resource page for anyone interested in medical transcription, as that's how the blog owner started her work at home career.

Since 1997 managing the Internets largest network of Virtual Assistant Jobs and companies that hire remote workers.

Latest posts by Mary Bader (see all)