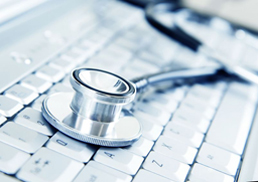 A Day In The Life Of A Home Based Medical Transcriptionist
Virtual Assistant Nina Davidson works full time as a medical transcriptionist and offered to share a day in her life with us. ~~Mary
Like many of you, I start my day with getting the kids up and ready for school. My middle school son must be up by 6:30 which is ironic because he is always the one who is hardest to get out of bed. Right about the time that I get him out the door it is time for my 4th grade daughter to get up and ready for elementary school. By around 8:30, the hectic school routine is done and I am ready to start my work day.Well… I cannot lie. I wouldn't say that I immediately delve into my work stash. I usually squeeze in some time to enjoy a cup of coffee, the newspaper, tv or a book and, if the weather permits, a quick jog around the neighborhood with my Labrador. But by 10am I am usually deep in a work a project. I am not one of those virtual assistants who work from home all day in my pajamas. No. I prefer to, at the very least, throw on some jeans and a sweater, and depending on my mood, a little mascara and cheek blush. (After all, you never know when someone is going to request a video meeting.)
My Work Begins: I begin my work by logging into my account via my employers private network. This is also how I access my schedule and upload/download my work files and projects. Everything is secure and only shared with other authorized employees so this helps to keep the medical information confidential. All employers are different but we use  Sugar Sync  which you can download for free to learn before you start applying to jobs. I spend much of my morning attempting to decipher the insane handwriting of the physicians in our practice or listening to muffled audio recordings with a keen ear. I don my trusty  headphones  and then attack the files that my employer has uploaded one by one. Usually these are audio files about surgeries or medical procedures but sometimes I also handle notes pertaining to referrals and medical plans.
Don't worry – it's not as stressful as it sounds. In fact, its actually quite comical at times. I consult medical terminology guides and websites a million times in this process. A medical transcriptionist can never hand in sloppy work. About this time is when I will break for lunch. I will take 30 minutes to an hour depending on my workload. I try not to spend the entire time doing laundry but I often do. I also enjoy talking online with the other home based medical transcriptionists in our practice. They are located all over the country and are a great source of advice, tips and, more often than not, a good laugh about our jobs and the physicians we work for. When someone asks me if I feel lonely or isolated working from home, I giggle to myself for this reason. My virtual gal pals are the best! We use a free program which allows us to chat free on the laptop or my mobile phone. My employer requires that I have access to video for communication purposes which is no big deal now.
To get hired to work from home as a medical transcriptionist – or any other job – it is important that you have all the necessary tools to connect you to your employer and coworkers. In my experience, I have found that the more advanced you are, the more attractive you will be to a hiring manager. After lunch I go to work on my edits and reports. Common tasks I complete in this area include creating discharge summaries, compiling operative reports, and recording progress notes or doctor recommendations and referrals. I check and double check (and then check again!) for errors and discrepancies making sure to expertly correct them all so my reports are perfect. Trust me, you will go far in this job if you strive for perfection. Most professional employers consider perfection more important than turn-around time, although working quickly to hand in reports on time is important too.
This is generally when the phone calls become to come in too. These might come from my supervisor, coworkers, clients, doctors, the medical billers, other staff and associates or my teenage daughter. I have a professional service for this reason. My employer requires home based employers be able to download voicemail transcripts, set up professional mailboxes and route messages to the appropriate party.
Around 2-3pm as my children begin to come home from school I will usually squeeze in a short break to give them hugs and make them snacks and perhaps take the chicken out to thaw for dinner before returning to my tasks.
The final work hours of my day (usually between 5-6pm is when I do my final checks, upload my work files and participate in a quick live chat or video chat with my supervisor and coworkers. That's it! With no commute, I am now free to begin dinner, help with homework and throw the ball in the front yard with the kids. I must admit, I sometimes feel guilty when my husband shows up around 6:15 grumbling about traffic.Why I Love My Job I've been working as a medical transcriptionist from home for about 7 years now. I began my career as a home based customer service agent, a job that I obtained after becoming a member of VOT Virtual Office Temps. I enjoyed the work but, honestly, didn't get paid very much. VOT told me that medical transcriptionists were in demand and the the pay ranged from $25,000 – $65,000 per year so this was more of what I had in mind. Of course, I had ZERO experience or even knowledge of transcription so I didn't really get serious about pursuing it as a career. But a few months later, VOT told me about a. It wasn't long afterwards that I landed my first medical transcription gig.  At first I worked a lot of short term, temporary projects through Virtual Office Temps. This allowed me to gain some much needed experience while also obtaining some references and building my portfolio and resume. I never seemed to be hurting for work, that is for sure!
The offers seemed to come one after another, just as VOT said they would if I obtained the right skills and training. After completing around 15 short term projects, I was offered a full time, permanent job with one of the companies I had worked with through VOT. I was SO EXCITED! My starting salary was $16.75 per hour with benefits and and full time work from my home. Boy, was I happy to tell my husband "I TOLD YOU SO!" after his months of skepticism. I now make over $24.00 per hour and LOVE MY JOB. I am thankful everyday for the opportunity to work from home for a great company in an exciting and growing field. My advice to a new VOT virtual assistant interested in working from home as a medical transcriptionist would be to get training wherever you can but preferably through an industry sanctioned certification program such as the one that I completed. The program was called CAREER STEP and I highly recommend it! Then you'll be able to utilize VOT to help you obtain access to medical transcription job opportunities (and there always seem to be tons of them!)
Then make sure that you have followed all the requirements to with VOT. You will need to setup your website
.  Get your home office ready with all the best tools and equipment and login to VOT Medical Transcription Jobs Area at least two or three times per week to be the first to get the latest jobs. If you follow my advice I am positive that you will be working from home within weeks.Of course, you'll need to make sure that you meet some basic requirements such as having a home computer, headset, and other home office tools. I would also suggest that you find out your credit history and work to improve any discrepancies that may be on your record. Most hospitals these days require a credit and background check before you can be hired to work with confidential medical files, so be prepared! Trust me, it will all be worth it in the end when you are earning a great salary from home in a career that you love.Good luck. I hope you will enjoy working as a home based medical transcriptionist as much as I do! CURRENT MEDICAL TRANSCRIPTION JOBS