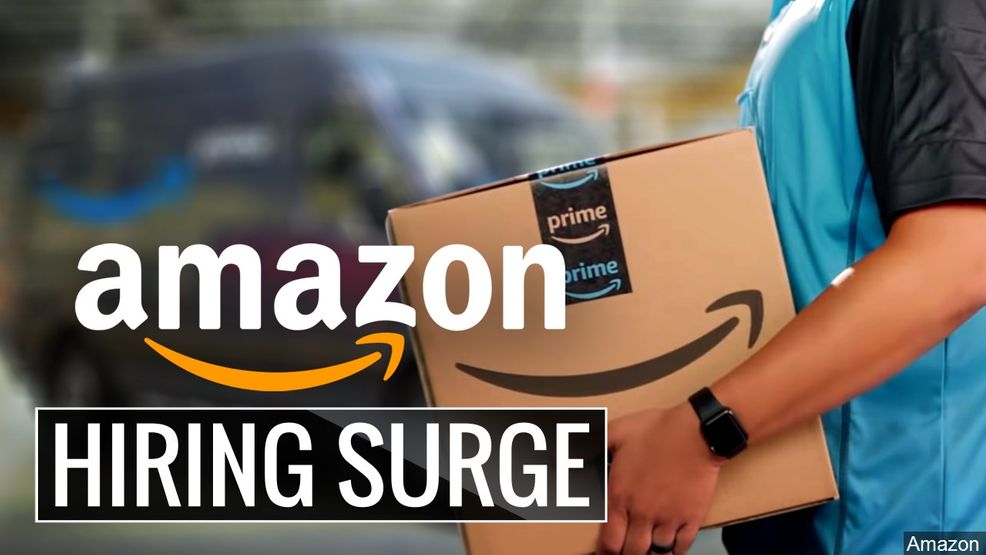 Amazon To Hire 75,000 More Workers, Including Remote Staff
Amazon is hiring more workers to keep up with customer demand during the coronavirus. The company is looking to fill positions for delivery, warehouse workers and shoppers.
Amazon has also increased the minimum pay by offering an additional $2 per hour through April.
The online retail giant already added 100,000 employees for its distribution centers in the last month. Amazon's hiring in March was focused on staffing their fulfillment centers, transportation operations, Amazon Go Stores, Whole Foods stores, and deliveries.
While many of these workers are expected to keep their jobs with Amazon through April and May, they do anticipate there will be opportunities to stay with Amazon in longer temporary and permanent roles.
In March, Amazon told all of its employees around the world to stay home if they can do their jobs from home. However, unlike employees at Amazon's corporate offices, many fulfillment center employees and delivery drivers cannot carry out their job duties while working from home.
Amazon currently has more than 1,000 work-from-home jobs available on their website. The full-time, virtual positions are available across the U.S.
If you're interested in applying, go to amazon.com/jobs or use Amazon's new job search tool amazondelivers.jobs – For virtual jobs only, use amazon.jobs/en/locations/virtual-locations
---
Submit your website to the Virtual Assistant Directory to let hiring employers find you: 
---
---
Current Virtual & Remote Job Openings with Amazon 
---
Other Companies That Are Hiring
Other companies that have announced job openings include Walmart, Apple, Google and Facebook.
Walmart plans to hire 150,000 new workers through the end of May to meet increased customer demand driven by the coronavirus outbreak. They are also offering a cash bonus to hourly workers. Walmart said the new-hire roles will be temporary at first but may convert to permanent jobs. Walmart will expedite the hiring process for key roles like cashiers and stockers from two weeks to 24 hours, the company said. Associates working for Walmart's U.S. corporate offices and some customer, tech and other support positions will work from home through at least Friday, April 3, to help prevent the spread of coronavirus (COVID-19). 
Rite Aid, a Fortune 500 company headquartered in Pennsylvania, is immediately hiring 5,000 full- and part-time associates. Positions include cashiers, pharmacy technicians and distribution center workers. Also, the company said it's raising the pay of hourly workers in its stores, distribution centers, and its health outlets. The "Hero Pay" increase of $2 per hour took effect March 15 and will last until at least May 2. Managers in those facilities, plus RediClinic "professional associates" have also been paid a "Hero Bonus" of $1,000 each. Rite Aid has also launched RediClinic Express, in partnership with InTouch Health, a leading telehealth company that offers healthcare providers solutions to efficiently deliver virtual care.
Available jobs with Rite Aid can be found here
Smaller organizations have also announced hiring plans.
loanDepot, the second largest nonbank lender and one of the leading retail mortgage lenders in the United States, plans to hire 3,000 employees by year's end. New team members will complement the company's fully remote-enabled, currently 7,000-strong workforce.
The company also announced that they will be offering virtual job fair to connect candidates with current job openings. Selected candidates can join the company immediately thanks to loanDepot's fully digital, virtual on-boarding and training processes.
For more information about loanDepot's current job openings, visit https://loandepot.com/careers New postings are added daily.
---