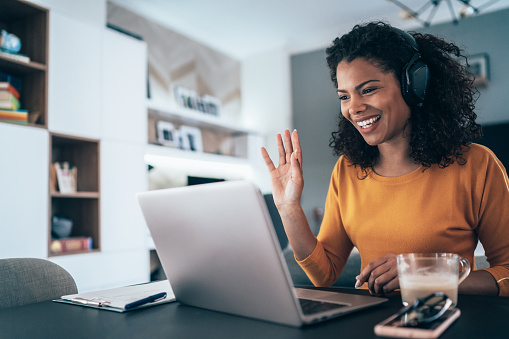 Land Your Dream Job at a Virtual Assistant Job Fair
VOT holds a number of virtual and online job fairs each month offering virtual assistants the opportunity to learn more about remote jobs, connect with hiring employers, and participate in job interviews. Job fairs are held online via Zoom or Teams, are free to our registered virtual assistants. To be selected to participate, please complete the free registration by the deadline.
2023 Virtual Assistant Job Fair Schedule
Want to participate in interviews for real remote jobs that are hiring now and offer excellent pay?
30 minute screening and interview slots are available during the hours of 10 a.m. – 7 p.m. (EST). Seats are limited! If you are selected to participate, you will receive details via email and by logging in to your VOT user account.
August 28, 2023
Administrative and Office Support Specialists [Job ID: 49281]
Salary: $16–$26 per hour part time, $32,500 – $53,500 per year full time
Work schedule: Flexible
Remote administrative assistants and other remote virtual assistants play a crucial role in maintaining the efficiency and organization of businesses. These professionals handle a variety of tasks, such as managing schedules, coordinating meetings, handling correspondence, data entry, and providing general administrative support. They often act as the backbone of a company's operations, ensuring smooth communication and streamlined processes. Remote administrative assistants work for a wide range of employers, including small startups, large corporations, nonprofit organizations, and even individuals requiring support. A strong foundation in administrative tasks such as scheduling, managing calendars, handling emails, data entry, and document preparation is crucial. Effective written and verbal communication skills are essential for clear interaction with clients, team members, and other stakeholders. Having a portfolio that showcases your skills and past projects can help you stand out to potential clients or employers.
Are you available for these jobs? Register for the job fair
September 5, 2023
Remote Support Specialists  [Job ID: 46323]
Salary: $21–$29 per hour part time, $45,000 – $60,000 per year full time
Work schedule: Flexible
Remote Support Specialists are highly sought-after professionals who provide customer support, administrative support, or technical assistance. These Virtual Assistants are typically hired by companies that rely on technology, such as customer support agencies, IT service providers, digital providers, telecommunications firms, and e-commerce platforms. Additionally, industries like healthcare, retail, finance, and manufacturing often employ Remote Support Specialists to provide provide efficient solutions and support to employees or customers. These roles demand individuals with strong problem-solving skills, excellent communication abilities, and a deep understanding of various remote office tools including Office 365, spreadsheets, data entry, and virtual chat and meeting platforms.
Are you available for these jobs? Register for the job fair
---
---
September 13, 2023
Remote Data Entry Specialists [Job ID: 41610]
$18-$24/hr (part time), $45-$50,000 per year (full time). Join our remote team as a Remote Office Support Specialist and play a key role in maintaining the smooth functioning of our virtual workspace. Your responsibilities will encompass a range of administrative tasks, including managing calendars, coordinating virtual meetings, handling correspondence, and assisting with document management. You'll contribute to efficient remote operations by ensuring effective communication and organized workflows. The ideal candidate should possess strong organizational skills, exceptional attention to detail, and proficiency in remote collaboration tools.
Remote Account Assistants [Job ID: 42254]
$20-$25/hour full and part time. We are seeking detail-oriented and motivated Remote Account Assistants to play a vital role in supporting our financial operations. Your responsibilities will include assisting with accounts receivable and payable tasks, reconciling financial records, preparing invoices, and maintaining accurate financial documentation. The ideal candidates should have excellent organizational skills, and the ability to work independently. Proficiency in relevant accounting software and remote collaboration tools is a plus. If you're a reliable and adaptable individual who thrives in a virtual work setting and is committed to maintaining financial accuracy, we encourage you to apply.
September 18, 2023
Online Content and Digital Assistants [Job ID: 32583]
September 27, 2023
Virtual Customer Support Specialists [Job ID: 32980]
October 9, 2023
Social Media Assistants [Job ID: 32400]
October 18, 2023
Digital Marketing Support [Job ID: 24521]
October 30

, 2023
Closed Captioning and Data Entry Transcription [Job ID: 24903]
November 7, 2023
Holiday Hiring! Customer Support
November 15, 2023
Holiday Job Fair: Remote Office Support
November 20, 2023
Holiday Job Fair: Virtual Retail Order Specialists
December 4, 2023
Last Minute Holiday Hiring! Remote Customer & Order Support
December 13, 2023
Hiring for 2024: Virtual Professionals
December 19, 2023
Hiring for 2024: Remote Administrative & Account Managers
To Apply
Register by the posted deadline.
Space is limited and spots fill quickly. Only the first 150 eligible virtual assistants will be selected to participate. Registration is free for VOT virtual assistants.
A current and updated VOT profile and VA website are required to participate in job fairs, interviews, and receive job offers. Sign up here.
Respond to the invitation email. 
If you are selected, you will receive an email confirmation with your interview time and instructions to login. Please check your junk or trash mailbox.
How it Works
If you are selected, you'll be given an interview link and a 30 minute time slot along with instructions on how to access the Teams or Zoom interview. (You do not need to pay for software to access the interview). If you advance to the next round, you will participate in another 30-45 minute Zoom or Teams interview.
---
REGISTER TODAY
Access to virtual jobs and job fairs are exclusively listed for VOT virtual assistants. Sign up for free and create your Virtual Assistant Website to be listed in our directory of virtual office professionals.
Setup Your Virtual Assistant DIY Website Here