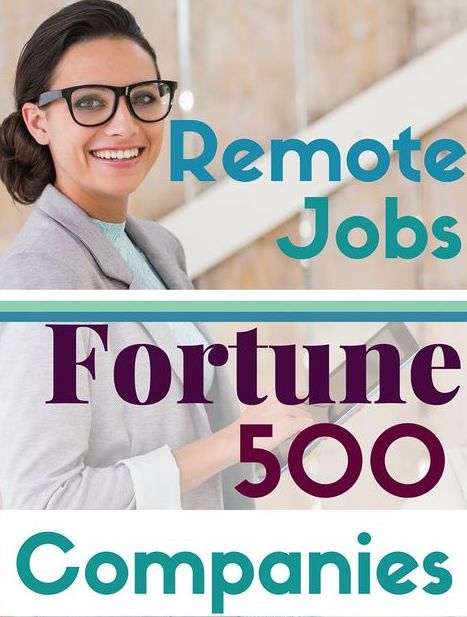 Remote From Home and Virtual Jobs with Fortune 500 Employers
2020 is the Year of the Remote Worker
According to a recent study, remote, virtual and work from home jobs are expected to soar in 2020 with salaries reaching $100,000 per year and more. For this reason, many have predicted 2020 to be the "year of the remote worker." At Virtual Office Temps (VOT), the world's most successful virtual assistant career organization, the number of new virtual assistant jobs from legitimate employers more than doubled in 2019, and are expected to be even higher in 2020. 
One of the largest growth areas has been with Fortune 500 companies that are beginning to see the value in offering virtual job arrangements. Top fields for remote virtual assistants include customer service, office administration, tech, and digital content including transcription and captioning.  
If the benefits of working for one of the nation's top employers interests you, check out this list of Fortune 500 Employers who are offering work at home opportunities:
---
Amazon
With hundreds of full and part time work at home jobs, Amazon refers to their virtual job program as the "office that comes to you."
Amazon is currently looking to hire over 200 virtual employees for a variety of career fields including administrative marketing, customer service, technical agents, software developers and many others. With the growth of Amazon's services such as Alexa and the Echo device, many new positions have been created for virtual technology assistants. 
Role & Responsibilities: According to Amazon, virtual or remote work from home opportunities require that you have a work space that is free from distractions so that you can devote 100% of your workday to their customers. This will often require that you agree to hire a child care provider if you have young children at home. Most full time positions offer full benefits including medical, paid time off, maternity leave, retirement savings plans, Amazon discounts and more. 
---
American Express
American Express is one of the most respected brands around the world. They provide a creative and collaborative culture and have regularly been been designated as one of the best places to work in the world.
Given the importance the American Express places on delivering extraordinary customer care, they recruit talented customer service team members who have the opportunity to work from home. American Express hires residents of 47 states (sorry – they cannot offer remote work to those who live in Hawaii, Alaska and California).
Role & Responsibilities: You will deliver extraordinary service on inbound calls in a fast-paced, structured customer care environment. Virtual Customer Care Professionals consult with card members to understand their needs and tailor unique solutions while reinforcing the benefits of card membership. You must have a proven record of customer service success with at least two years of experience. You will need a passion for providing the best customer service with an easy communication style that can be adapted to many personalities and situations.
---
Anthem
Anthem is a leading health benefits company dedicated to improving lives and communities, and making healthcare simpler. Through its affiliated companies, Anthem serves more than 78 million people, including over 41 million within its family of health plans.
Role and Responsibilities: Outreach Specialists are responsible for serving as a main point of contact between the Company and current members in a remote call center environment. Primary duties may include, but are not limited to:Outreach to members, Multitask between different software programs and databases, Communicate with a variety of agencies/organizations from home health agencies to vendors, Research and telephonic outreach to initiate activities that promote member access to care through community resources, services and programs, Supports member access to care through research, identification and outreach related to home visits, processing of reports, and access to community services, Provides superior quality outcomes by taking ownership of issues to ensure timely resolution or follow-up.
---
Cigna
Cigna is an American worldwide health services organization based in suburban Bloomfield, Connecticut and Philadelphia, Pennsylvania. Cigna offers Medicare and Medicaid products and health, life and accident insurance coverages primarily to individuals in the U.S. and selected international markets. Cigna has 74,000 employees worldwide
Role and Responsibilities: Does your dream job involve a healthy mix of helping others, problem solving, and a supportive, family-like team environment to top it all off? What about a starting pay of $16 – $17 an hour based on experience & education, medical that start on day one, and 8 hours paid time off to volunteer with causes you're passionate about? Then make sure you apply! Duties include: helping customers and health care providers understand the business a bit better.
---
CVS Health
CVS Health is headquartered in Woonsocket, RI and is the largest pharmacy health care provider in the U.S. The have approximately 300,000 colleagues across all 50 states, Washington, D.C., and Puerto Rico.
Role and Responsibilities: Product Strategists, Client Support Specialists, Talent Acquisition Support, Member Services Techs, Training Managers, Account Representatives and more. An example of job duties include answering questions via telephone or live chat regarding CVS Health memberships and benefits. You must have 6 months of customer service experience. Full time virtual employees are eligible for benefits like paid training and bonuses.
---
Dell
The workplace is changing and today's technology makes it possible to work from almost anywhere. With Dell's Connected Workplace program, employees can choose a work style that best fits with their personal lives. For that reason, Dell has been recognized as a Top 100 companies with remote work and Top 10 of Forbes' Top 100 Companies for remote jobs.
Role and Responsibilities: Customer Service and Sales Professionals must have a passion for helping customers. Being part of Dell Technologies means you will find stability, collaboration, and most importantly, a long-term, positive financial future with an amazing company culture. Dell offers highly competitive salaries, bonus programs, world-class benefits, and unparalleled growth and development opportunities.

---
General Electric
General Electric Company is an American multinational conglomerate incorporated in New York City and headquartered in Boston. In operation for more than 125 years, the company has over 280,000 employees worldwide. Recently, GE was named one of the best places for women and diverse managers to work for five years in a row by Diversity MBA magazine. They were also named a top employer for Working Mothers.
Role and Responsibilities: Excellent communication / interpersonal / organizational skills, Demonstrated ability to organize and drive tasks and issues through resolution, Microsoft Office proficiency with focused excellence in PowerPoint and Excel. Depending on your employment status and where you work in GE, you may be eligible for disability coverage; medical, dental, and vision plans; retirement savings and matching; shares of GE stock; and a wide variety of consumer discounts.
---
Hilton
For more than 100 years, Hilton has pioneered the hospitality industry as we know it. Hilton is a leading global hospitality company with 18 world-class brands comprising nearly 6,000 properties with more than 954,000 rooms, in 117 countries and territories. Hilton earned a spot on the World's Best Workplaces list, and has welcomed more than 3 billion guests in its 100-year history.
Role & Responsibilities: In this role, you will engage directly with Hilton guest as a specialist in sales/reservations and customer service. The Guest Engagement Specialist is a work from home role within Hilton's Reservation sales and customer support team and is perfect for someone with strong communications skills that can easily switch focus from solving problems to selling Hilton. You will serve as the first point of contact answering inbound calls from our customers. You will have conversations with our customers to understand their needs, answer questions, and provide personalized solutions. This means being able to perform various roles, based on training provided. This includes (but is not limited to) – advising, selling, responding to inquiries/requests, and resolving customer issues/complaints. 
---
Humana
From aviation to marketing, Humana offers many career paths that share a common goal: to support healthy communities. Headquartered in Louisville, Ky., the company has approximately 13 million members in the U.S. and 41,600 employees.
Roles and Responsibilities: Medical Records Reps will work from home to conduct quality assurance audits of medical records working with ICD-9/10 codes. Claim processors typically work with routine claims procedures, contract provisions, TRICARE Policy, and state and federal legislation.  Claim processors also perform operational and customer support duties.
---
Leidos
At Leidos, they are committed to offering more remote work opportunities. In fact, more than 4,000 employees already work remotely, and 400 open positions currently offer remote work at home options. These numbers have earned them a spot on Fortune 500 Companies with Remote Jobs and 250 Companies with the Most Flexible Jobs.
Leidos is a Fortune 500® information technology, engineering, and science solutions and services leader working to solve the world's toughest challenges in the defense, intelligence, homeland security, civil, and health markets. The company's 33,000 employees support vital missions for government and commercial customers. Headquartered in Reston, Virginia, Leidos reported annual revenues of approximately $10.19 billion.
Roles and Responsibilities: Demonstrated experience using MS Office applications, to include MS Outlook, Word, Excel, PowerPoint and SharePoint. Experience working as a part of a virtual team is helpful.
---
McKesson
McKesson Corp is a Fortune 7 company and is one of the largest providers of medicines, pharmaceutical supplies and health information technology (IT) products and services in the United States with revenues of $208.4 billion in 2018. The company was founded in 1833 by John McKesson and Charles Olcott in New York.
Roles and Responsibilities: In these roles you will be responsible for selling Rx products, managing the overall customer relationship to include day-to-day customer activities, or promoting and McKesson's overall product line within a specific service area.
---
Oracle
Oracle offers a comprehensive and fully integrated stack of cloud applications, platform services, and engineered systems. Oracle has 137,000 employees.
Roles and Responsibilities: In these roles you will be responsible for selling consulting services solutions to existing and new customers, create and define advertising campaigns strategies and concepts, or Answer and direct all calls in an efficient, accurate, professional and pleasant manner.
---
Hartford Insurance
Hartford's nearly 19,000 employees use their unique talents in careers that span a variety of disciplines – from developing the latest technology to creating and promoting our products to evaluating future financial risks. The company offers full benefits and flexible work schedules, including remote work arrangements.
Roles and Responsibilities: As an Advisor Consultant, Claims or Customer Specialist you are responsible for driving Hartford Funds sales, assisting customers, or developing relationships with financial advisors, strategic partners and firms. 
---
---