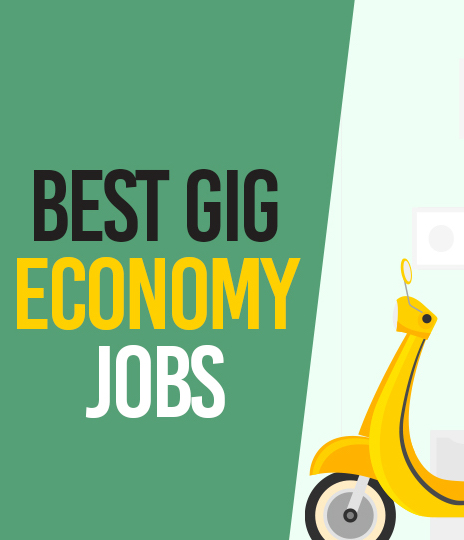 The Virtual Gig Economy: How to get in on it while it's hot
Gig workers for DoorDash, Lyft and Uber have already proven that it is possible to give up your day job and earn a living on your own. And as these services expand and new startups enter the market, even more independent contractors are now working solo as grocery delivery operators, personal shoppers and private package delivery workers for UberEats, Grubhub and similar organizations.
But the opportunities do not end there. Virtual Assistants and other members of our virtual army have found that the last year has provided a nearly nonstop stream of new home-based contract jobs in a variety of fields.
From administrative to customer service to finance, management and executive workers – it seems that everyone, regardless of their field or pay grade, are finding lucrative and reliable work from home thanks to the gig economy.
---
---
What is the virtual gig economy?
The gig economy includes short term and long term contract job opportunities where workers are hired as freelancers, independent contractors and small business operators instead of payroll employees. The virtual gig economy meets those same criteria but with the added benefit of non-traditional work arrangements including remote work from home and flexible hours without a set workday.
Women in the virtual gig workforce
The virtual gig economy is missing many of the traditional protections that employees count on such as workers' compensation insurance, health care coverage and on-the-job training. Gig freelancers also find it difficult to advance with a company who is only interested in a short-term arrangement. This can be especially damaging to women and working moms who need a safety net for their families. On the other hand, the vast majority of virtual gig workers say the positives outweigh the negatives including the ability to earn more money, work flexible hours, and choose the projects and teams that they believe in. 3
Where are the virtual gigs?
Telemedicine
One area with significant growth has been the telemedicine field. In our post-pandemic world, many patients and their doctors are choosing virtual Telehealth visits held via video chat and telephone consultations. According to the CDC, "the number of telehealth visits increased by 50%… with a 154% increase in visits" during some weeks of 2020. As a result, new technology and patient service providers have appeared on the scene offering virtual work opportunities for account agents, customer service staff, billing agents, as well as medical professionals such as physician assistants, doctors, nurses and other specialized care providers.
Videoconferencing
With Telehealth on the rise – it would only make sense that videoconferencing and other technologies have also seen tremendous growth. In fact, it isn't only the medical field that is driving growth. As thousands of corporations have shifted to a remote work arrangement due to the pandemic, the demand for video conferencing and other corporate communication tools have also increased. Platforms such as Zoom and Microsoft Teams have become a common workday tool for virtual assistants across the globe, and as these companies have grown – so to as their staffing.
Virtual Staffing, HR and Recruiting
Staffing shortages have also opened the door for remote recruiters and work from home human resource workers. According to SHRM's "Recruiting Trends Shaped by the Pandemic" virtual hiring is here to stay.
"Job interviews will largely continue to be conducted virtually," said Candace Nicolls, SHRM-SCP, senior vice president of people and workplace at Snagajob, a Glen Allen, Va.-based online staffing platform that specializes in matching candidates to hourly wage jobs. "Even for businesses resuming in-person operations, I expect that virtual and automated interviews will instead replace many in-person touchpoints, helping to accelerate timelines while also providing a critical layer of safety as we continue to observe social distancing rules." To meet this demand, remote recruiters and HR professionals will be needed to find candidates, screen resumes, conduct initial interviews and make referrals.
Top virtual gig employers
We have identified these top employers in the virtual gig field:
VOT Virtual Office Temps
With an army of over 1 million virtual assistants, VOT has become one of the best and biggest platforms for virtual assistants. According Mary Badar, chief executive officer at Virtual Office Temps, the service has grown by leaps and bounds since its launch in 1998. "We've been around longer, have worked through more changes, and survived more market trends than any other virtual assistant organization in the world," she said. "So, when I say we know the virtual assistant market – we REALLY know the virtual assistant market! We know where to find the gigs, what is required to land the gigs, and how to get hired and stay employed." Virtual Office Temps offers both short and long term opportunities that include traditional employee work as well as freelance and contractor opportunities. The service is free for job seekers, while employers pay an annual fee to access VOT's Virtual Assistant Directory which gives hiring managers direct access to pre-screened virtual assistant websites, services and portfolios.
Adecco Staffing
Adecco Staffing agency is looking for candidates like you for temporary, direct hire, and remote opportunities. There are many Remote Recruiter opportunities available! But you'll also find gigs for Remote Customer Service, Remote Project Managers, Remote Data Entry Clerks and more!
Ajilon Staffing
Find a job fast with Ajilon Professional Staffing. Their staffing agency experts will connect you with the job that fits you best. You can search for short and long term contract gigs including Remote Recruiters, Remote Order Entry, Remote Customer Service, Remote Medical Claims and Remote Patient Representatives.
Aquent Staffing
You're in the right place if you're looking for jobs perfectly matched to your unique talents! Aquent has a ton of virtual gigs for Remote Writers and Marketing Specialists, Remote Content Managers, and Remote UX Designers.
CVS Health
Hundreds of full and partial remote opportunities are available with CVS Health, named one of the top U.S. employers for virtual career opportunities. Remote opportunities are available in Marketing, Customer Support, Finance, Medical and Healthcare, Technology and more.
Kelly Services
Kelly Services has been in operation since the 1940's and has since grown to a leading provider of outsourced temporary staff. The website offers a searchable database of jobs including the ability to search for Remote Administration, Remote Customer Service, and more.
Kforce
Interested in making a career change? Turn to Kforce for a contract job or direct hire position in corporate, sales, recruiting, operations and more. The website offers the ability to search for full remote opportunities as well as partial remote work. Gig positions include Remote Social Media Assistants, Remote Software and Tech Support Agents, Remote Accounting Agents, Remote Project Managers and many more.
Randstad
Randstad is a staffing agency that connects job seekers with employers hiring across many fields including clerical office, finance, technology, and more. Current long and short term remote opportunities include Remote Customer Service, Remote Admin, Remote Call Center Reps, and Remote Tech Staff.
Stride Learning / K12
Stride Learning is dedicated to providing education for any ONE. · They are hiring for the upcoming School Year! Stride offerings remote and virtual educational jobs and contracts for teachers, specialists and education marketing, customer support and more.
Twilio
With Twilio, unite communications and strengthen customer relationships across your business – from marketing and sales to customer service and operations. Remote opportunities are available in Accounting, Payroll and more.
UnitedHealth Group
UnitedHealth Group helps people live healthier lives. They have offices in all 50 states in the United States and in other 33 countries, and are continuously expanding. They offer hundreds of short and long term gigs and employment opportunities for Remote Administration, Remote Coordinators, Remote Call Center Agents, Remote Billing Reps and many others.
Use the Virtual Assistant Sitebuilder and create your website now!
---
Virtual & Remote Home Based Jobs
Get Hired! Register Now and Setup Your VOT Profile to get listed in our directory of Home Based Virtual Assistants. Registration is Free!
---