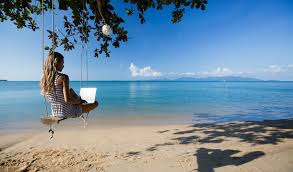 Top Remote Jobs to Make Money as a Digital Nomad
You've heard about the Digital Nomads, right?
These are work-from-home'rs who have taken the concept of a remote career one step further to become work-from-ANYWHERE'rs. This new generation of virtual assistants have a where-the-wind-takes-me approach, and have discovered lucrative ways to earn a living from a boat, a plane – or anywhere in the world with wifi and an outlet.
Whether you want to work from the road – or just work from your own backyard, we've gathered the top remote jobs for nomad virtual assistants who are ready to take the leap.
---
---
What is a Digital Nomad?
A digital nomad isn't just a Gen-Y Tiktok'er living and working off the grid in Costa Rica. These days, the term also includes moms, dads, and anyone else who isn't bound by the confines of a static office. Whether you work from your laptop in a Paris cafe, or from your local Starbucks, you can consider yourself a Digital Nomad – forging his or her own way to a fun and lucrative career.
Best Jobs for Virtual Nomads
Okay, let's be for-real. Some jobs are NOT going to work for those seeking the lifestyle of a wanderlust'er – for instance, anything that requires meeting with a client that can't be handled via Microsoft Teams, or other jobs that require hands-on interactions such as those who work in the healthcare field. But for all others, the possibilities are endless. Virtual assistant nomads are finding success in careers that focus creativity, business and technology.
Bloggers, Writers, Content Specialists
It's true – there are bloggers out there earning a 5 figure income per MONTH. We aren't about to say that is a realistic possibility to everyone, but it is certainly possible. But what we do know is that you'll never earn a penny until you get started blogging. It's simple and requires nothing more than a website and your consistent effort. You can even use an easy, ready-to-go website builder to get your new venture off the ground within an hour or less! Once you get your website blog, you'll need to determine your niche. Maybe you want to blog about parenting – pets – travel – music – fashion… the possibilities are endless. Learn how to become a 6 Figure Blogger!
Social Media Influencers
Do you have a knack for social media? You could earn a very comfortable income if you find your niche and promote your brand on your favorite social platforms. Some of our virtual assistants are earning a living as influencers in a variety of fields including home decor, cooking, crafts, makeup and more. You'll need to focus on what you're passionate about and work consistently to grow your following. Learn more: Influencer – Build Your Personal Brand
Virtual Assistant
Working as a Virtual Assistant is one of the best gigs for digital nomads. In fact, there has never been a better time to land a job or work as a virtual freelancer. Hiring managers are looking for administrative assistants, accounting specialists, typists, transcribers, data entry agents, customer service, and many others!
Use the Virtual Assistant Sitebuilder and create your website now!
Freelancing
You can earn money working as a freelancer thanks to services that allow you to create a profile and market your services. Creating a website for your virtual assistant services will help and is sometimes required to be included in the database of available freelancers.
Data Entry & Transcription
For entry level virtual assistants and remote data entry workers, the average salary is about $40,000. However, more qualified home based workers interested in data entry, transcription and other data content management work can expect to earn over $50,000 per year. Many virtual assistants have also been able to land jobs that pay per word which can sometimes equal as much as $20 or $30 per hour.
More Ideas
---
Virtual & Remote Home Based Jobs
Get Hired! Register Now and Setup Your VOT Profile to get listed in our directory of Home Based Virtual Assistants. Registration is Free!
---