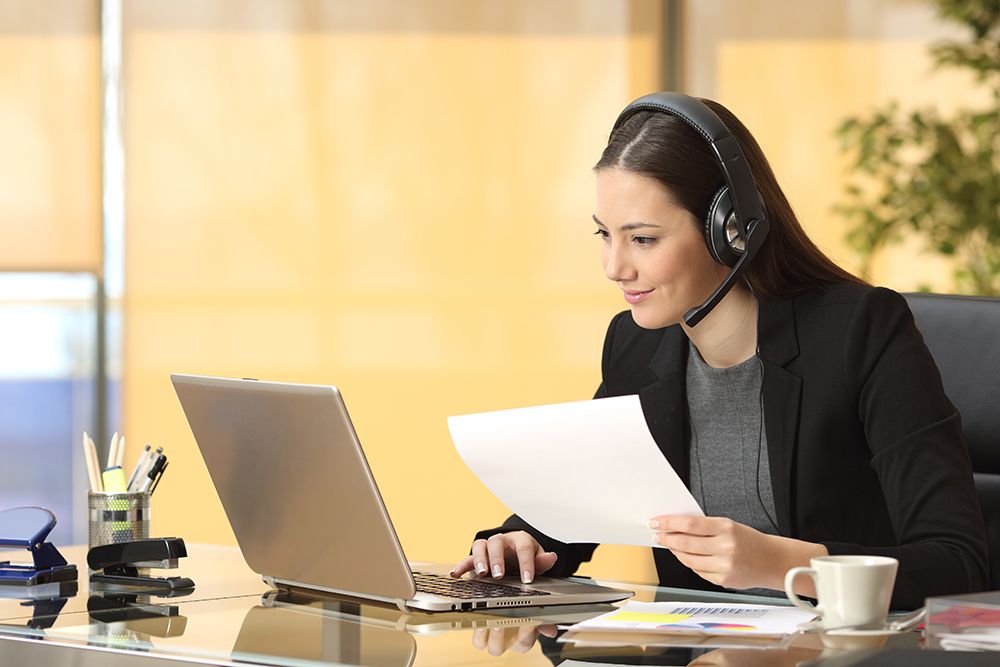 Be Prepared for These 7 Questions During Your Virtual Assistant Interview
Just about everyone wants to work from home, but not everyone is capable of working from home. To weed out those who aren't a good fit, many hiring managers ask specific questions aimed at finding star virtual assistants who are able to handle all that the job might throw at them.
We surveyed our top employers and asked them about their go-to interview questions – and what answers they are hoping to hear. Here's the top 7 that you should be prepared to answer:
---
---
1. Tell me about yourself?
Since most work at home job interviews are conducted over the phone, it is unlikely that you'll ever meet the hiring manager in person. Therefore, you should be prepared to talk about yourself by hitting on all the important points that the interviewer wants to know. This generally includes a focus on your career, professional interests, and stand-out expertise. However, virtual office employers might also want to take it step further by hearing a bit about your personal life. For instance, do you have young children at home? Where do you live and in what type of home? And, what type of home office arrangement do you have? Remember, most employers will use Google, Facebook and other social media accounts to do their research before speaking with you so make sure your accounts have a professional image.
2. Why do you want to work from home?
This is often a tricky one for most virtual assistants. Often, the obvious answer is "because I want to stay at home with my children," or "I really need to find a good-paying second job from home to cover my bills," but these answers will not help you get hired. In fact, many hiring managers feel that answers like these send a message that you are not serious about their position. "I am looking for a company-focused answer," said David Johnson, recruiting executive for Deloitte. "We want to see candidates who want to grow their careers, share their skills, and excel in their fields. If childcare is the only motivation then what happens when the kids start school? If the candidate doesn't see us as a long-term option then we may not see them as a serious long-term employee."
3. What is your previous experience?
This might seem like a general question that you've likely already encountered in other job interviews. The difference with virtual assistant jobs is that the hiring manager is looking for specific information that pertains to your ability to handle independent work from your home. "We aren't necessarily looking for previous remote work experience," said Diane Ferguson, executive recruiter for Staffmark, "but we do want to determine a candidate's ability to make good decisions in a self-supporting environment." With that in mind, an effective approach for handling this question would be to share information about your work history that highlights situations where you excelled independently.
4. What office equipment and software do you have?
This question is a deal-breaker for most hiring managers if your home office isn't equipped with the latest and greatest technologies. This is simply the nature of the beast for virtual assistant jobs. Not only do you need to have the latest software programs, a newer computer, high speed internet, and a quality printer – but you should also be prepared to talk about them. You should be knowledgeable about brands, series, versions, updates, and other technical specifications because this will show the employer that you are not only prepared but also knowledgeable. This is also the perfect time to describe your CERTIFICATIONS especially those that relate to Microsoft Office, Excel, Google Docs, and other popular programs. Learn more about available CERTIFICATIONS HERE.
5. What do you think you'll like the most or the least about working from home?
This is your opportunity to bolster your virtual assistant services by letting the interviewer know that you are realistic about the work arrangement, and that you are prepared to handle it all, and then some. Talk about the drawbacks and explain how you plan to tackle them without impacting your work. For some, this might be handling the isolation of working from home, or dealing with household interruptions. Letting the hiring manager know that you've thought these issues through and are prepared to overcome all obstacles will improve your chances of being selected. For the icing on the cake, describe what you like about working from home but be sure to relate your answer to the job, the company and the day to day duties that will be required.
6. How do you prioritize tasks and manage your work day?
Employers with virtual opportunities need remote staff members who are responsible, organized and able to work independently without constant supervision. How you handle your tasks and prioritize your projects, therefore, are of vital interest to hiring managers. This is also a great opportunity to share your experience and expert knowledge of office tools such as Google Calendar, task sharing programs including Asana and Bootcamp, and collaboration services such as virtual meeting and video chat software.
7. Do you have a virtual assistant website?
In a recent survey, more than 85% of organizations looking for a virtual assistant wanted to see a digital portfolio, online resume or VA Website before scheduling an interview with a potential candidate. "It's that extra step, the above-and-beyond, that sets a virtual assistant above the competition," says Danielle Hunter, executive recruiter for Aetna. "It shows us that this candidate takes the work seriously and strives for success. Not to mention that their websites serve as a replacement for the face-to-face time that is missing from a virtual interview," she says. See tips and tricks for your VA profile here.
Use the Virtual Assistant Sitebuilder and create your website now!
---
Virtual & Remote Home Based Jobs
Get Hired! Register Now and Setup Your VOT Profile to get listed in our directory of Home Based Virtual Assistants. Registration is Free!
---